Think of your favorite brand. If it's a Big Tech company, like Apple or Microsoft, it may be worth something! That's the takeaway from Forbes magazine's latest list of the world's 100 most valuable brands. For this annual report, Forbes estimated the contribution of each company's earnings from its brand, for companies with a significant presence in the United States (See the complete methodology here).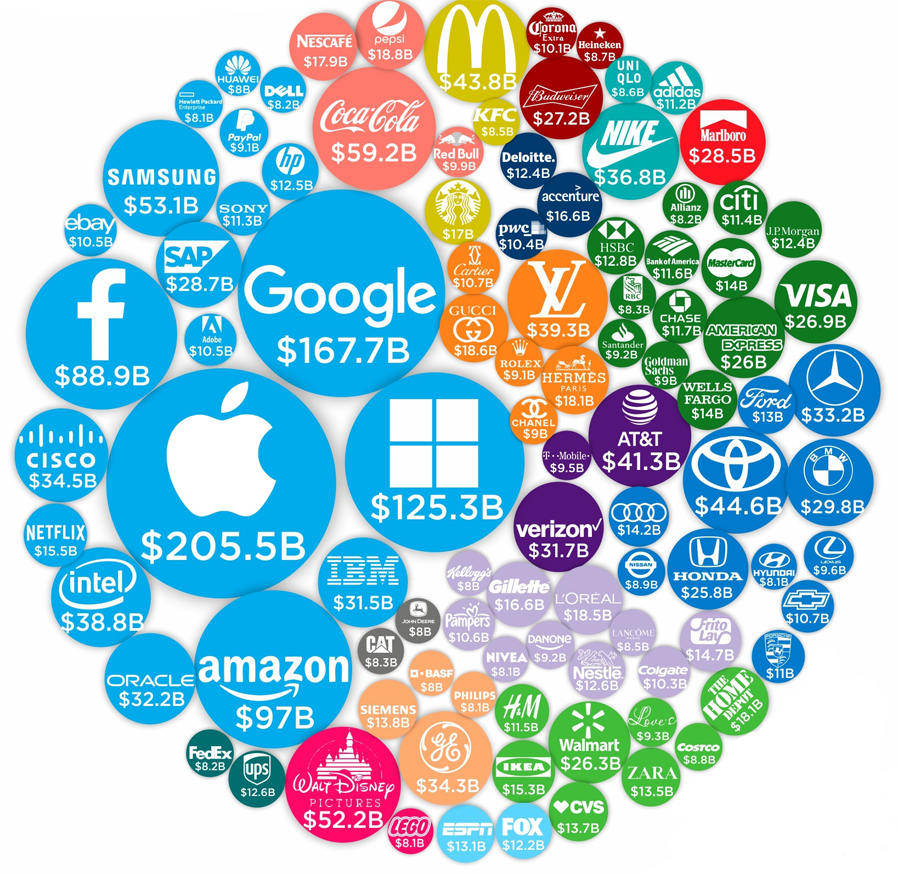 Only three companies have brand values over $100B — and they are all in technology.
Six of the top seven most valuable brands are in tech.
Apple's brand ($205.5B) is worth nearly four times more than the most valuable non-tech brand, Coca-Cola ($59.2B).
The list of the five most valuable brands is unchanged since last year, and those companies are all in tech.
Our visualization uses a bubble chart to compare valuations of the top 100 brands. The size of each brand's bubble is proportional to its brand valuation. Colors indicate which of the 18 industries the brand belongs to. Use the legends below to look up the scale of the bubbles and the color used for each industry.
Among the top ten most valuable brands, there are only two changes from last year — see our visualization of 2018's brand list here. First, McDonald's made the list at number 10, replacing AT&T (now at number 11). Second, Amazon and Facebook switched places for 2019 at ranks 4 and 5, respectively. It was not Facebook's best year — more on that later.
The World's Top Ten Most Valuable Brands in 2019
1. Apple (Technology): $205.5B
2. Google (Technology): $167.7B
3. Microsoft (Technology): $125.3B
4. Amazon (Technology): $97.0B
5. Facebook (Technology): $88.9B
6. Coca-Cola (Beverages): 59.2B
7. Samsung (Technology): $53.1B
8. Disney (Leisure): $52.2B
9. Toyota (Automotive): $44.6B
10. McDonald's (Restaurants): $43.8B
Brands with the Biggest One-Year Gain in Value
1. Amazon (Technology): +37%
2. Netflix (Technology): +34%
3. Google (Technology): +27%
4. Adobe (Technology): +27%
5. Gucci (Luxury): +24%
Given those minor changes in placement from last year, the biggest takeaway from this Forbes data is the continuing dominance of tech companies in brand value. Among the top 25 most valuable brands, 11 are in tech, 3 in automotive, and only 1 in financial services.
This disparity in value between "tech and the rest" only continues to grow, with four of the five top-gaining brands since last year coming from tech. Amazon in particular had a noteworthy year, with the biggest gain in value among all brands. Its gain was enough to unseat Facebook (who fell 6% in value) to take the number 4 spot. Facebook, for its part, was one of only two tech companies (along with Huawei) to lose in brand value since last year, likely due in part to its ongoing controversies over user privacy.
At the top of the tech chain remains Apple. With a valuation of over $200 billion, it remains by far the top brand in the tech industry, let alone the overall marketplace.
There are signs of life, however, in the brand power of non-tech companies. Iconic brands Disney and Coca-Cola haven't given up their top 10 spot yet, and Gucci's brand value increased by over 24% last year. Not bad for a brand founded nearly 100 years ago.
Credit: How Much
https://howmuch.net/articles/the-worlds-most-valuable-brands-2019